Cybersecurity Lightning Session
Risk Management Strategies in Today's Patient Care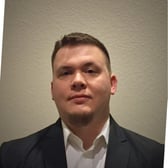 Wednesday, February 13th at 11:45 AM to 12:05 AM
Technology today has made patient care more readily available, yet most practitioners are unaware on how to manage the consequences of risk while harnessing the innovative technologies today and optimizing security costs. Mike Pedrick, Security Practice Lead of Synoptek, not only brings insights on the advanced threats technologies face today but also how organizations can leverage both new and existing resources to mitigate risk.
About the Speaker: Mike Pedrick has been developing and improving operational information technology and security programs for more than 15 years for small- and medium business in a wide and varied range of industries. His consultative risk management approach is highly engaging and interactive. He is the Practice Manager for Security Consulting within Synoptek's Professional Services team.

Lightning Sessions will be held in Hall D at Booth #7145 at the Lightning Session Theater.
---
Case Study Showcase Sessions
Join us at Booth #5785 each day of the week during exhibit hours to attend our educational presentations and case study showcase sessions that highlight customer success stories and industry insights.
Date & Time

Tuesday, 2/12

Wednesday, 2/13

Thursday, 2/14

11 AM

Partners Health
IoT Application for Better Connected Health

Partners Health
IoT Application for Better Connected Health


Partners Health
IoT Application for Better Connected Health


1 PM

Quatris

Health


Operational Efficiency to Achieve Healthcare Results

Risk Management Strategies in Today's Patient Care

Best Practices to Current Breaches, Threats & Risks

Quatris Health
Operational Efficiency to Achieve Healthcare Results