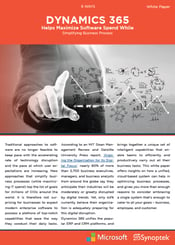 Optimizing your business's IT spend is hard to do if you don't have an enterprise solution that helps fast-track business performance. Dynamics 365 keeps you ahead of the competition by simplifying business processes with automation technologies.
Dynamics 365's cloud-first approach, enables you to harness intelligent data and quickly respond to employee and customer needs, optimize operations, and transform your products and processes. One way you can optimize your software IT spend is by taking a new approach to managing your technology landscape.
From this white paper you will learn:
What Dynamics 365 is and how it benefits your business
Key challenges businesses currently experience due to their current implemented software
Significant ways the Dynamics 365 solution provides optimal IT spend
How to achieve business goals with Dynamics 365
Fill out this brief form to download this white paper and learn more about how Dynamics 365 can help you maximize IT software spend while simplifying business processes.